Please find information on Lexacom and an update on their new products below.
Background
Lexacom is the leader of digital dictation and workflow management software in primary care. We provide multi clinical multi-site support, with a flexible service that can be tailored to suit individual practice needs and excellent customer service. It is used by professionals worldwide to produce accurate documents easily and efficiently.
Developed by doctors for doctors, Lexacom is an approved digital dictation supplier to the LMC Buying Groups Federation as well as an approved partner with all three clinical systems.
Lexacom 3
Lexacom 3 is one of the most advanced and versatile digital dictation and workflow systems on the market. With Lexacom you can not only dictate and transcribe documents with ease, you can transform business processes with a range of features and services designed to make your life easier.
Lexacom 3 provides a fully integrated solution, ensuring seamless integration and an even more efficient workflow.
Features and benefits  
Whether you are looking for extra support with transcribing documents, or a more efficient way to deliver your correspondence, we have partnered with carefully selected suppliers who can offer enhanced, secure services to our clients.
Integrating seamlessly with your Lexacom system, our latest software enables you to access these services as and when you need them, giving you maximum flexibility to manage your resources effectively.
With Lexacom 3 you can:
Choose to use Lexacom Echo for flexible speech recognition options
Dictate securely on the move, approve documents and track progress from your smartphone or tablet
Monitor and manage your workload with advanced reporting tools
Securely share information across sites using Lexacom cloud technology
Outsource some or all of your transcriptions at the touch of a button
Take advantage of our Docmail's® print to post service
Integrate with your existing systems to optimise accuracy and efficiency
Our latest software also allows you to dictate securely at your desk or on the move, securely share workload across sites, effortlessly track referral patterns and generate informative reports and improve and monitor referral processing times and paperless referrals.
As a user of Lexacom you can take advantage of exclusive hardware deals for Lexacom customers via the Lexacom Shop.
 Choosing Lexacom
We are the most widely used digital dictation system in primary care for a reason – book a free 30 day trial to find out why. It's easy to switch to Lexacom and you can even use your existing hardware.
Start improving your efficiency today – contact Lexacom on +44 (0)1295 236910 or sales@lexacom.co.uk or visit www.lexacom.co.uk
Why not see what everyone think about us and read reviews on Practice Index http://practiceindex.co.uk/gp/lexacom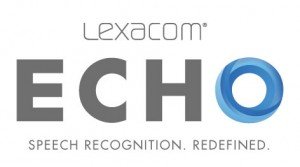 Whats New from Lexacom
Lexacom revolutionises Speech Recognition with the launch of Lexacom Echo
Lexacom, the Home of Digital Dictation, continues to lead the dictation and document creation market with the launch of their brand new cloud based Speech Recognition solution. Available from the 16th March 2016, Lexacom Echo is destined to revolutionise Speech Recognition technology, delivering a new sophisticated solution available to anyone using Lexacom's advanced digital dictation platform, Lexacom 3.
Lexacom are proud to announce that they have redefined the way in which customers can now access and use Speech Recognition. This new innovative solution has been designed to remove the many barriers traditionally associated with Speech Recognition and offers complete flexibility, accuracy and a high level of transparency with no upfront financial investment nor the need for any upgraded or expensive hardware. Lexacom Echo provides two modes for dictation allowing users to choose the most appropriate option for their needs. Accessed via Lexacom 3, the system offers deferred Speech Recognition as a standard service and, at the touch of a button, direct 'live' Speech Recognition compatible with any third party software.
Until now, one of the biggest barriers to using Speech Recognition has been the cost of buying the service; Lexacom Echo removes this barrier with its innovative approach to pricing. Occasional users can opt for a PAYG option where they only pay for what they use, with no minimum term or pre-payment, whereas more regular users can opt for a monthly subscription giving them unlimited use of the service. Lexacom also believes that customers should only pay for accurate transcription, and as such, PAYG customers will not be charged for any errors they may need to correct. In addition, profession-specific dictionaries are regularly updated within the system, providing full, accurate support for Medical, Legal and Business terminology. Lexacom Echo is compatible on any PC running Lexacom 3. All updates to the system are included in the charges and, on top of all of this, bespoke 1-2-1 training sessions are available to users ensuring they have the best experience from using the Lexacom Echo software.
Created under the Lexacom brand and developed at Lexacom's head office in Banbury, Oxfordshire, Lexacom Echo is unique in the way it offers Speech Recognition and is changing industry standards. As with all of Lexacom's services, it fully integrates with their digital dictation platform, Lexacom 3, with the latest version of the software, v3.10, being released alongside it.
Dr Andrew Whiteley, Managing Director comments "This is a very exciting time for Lexacom as we launch Lexacom Echo. We continually strive to offer the best solutions for our customers and Lexacom Echo represents a great step forward for professional Speech Recognition. I am delighted that we can give our customers the opportunity to find the most effective tools for them to create documents accurately, securely and efficiently – all from within Lexacom 3.   We fully understand the constraints on our customers' workloads and we continually work with them to provide solutions, such as Lexacom Echo, that will ease the pressures they are under".
Lexacom 3 digital dictation platform is the only solution approved for use with all of the UK's primary care clinical systems and integrates with third party Outsourced Transcription services (provided by trusted partners) and Docmail's Print to Post services. Together with the Lexacom Mobile app, Lexacom offers the perfect end to end workflow solution for document creation. All features are designed to fully enhance and support the complete document workflow, from creation through to delivery, improving accuracy, efficiency and cost savings in the workplace.
For more information about Lexacom Echo, please contact the Customer Services team on 01295 236910 or on email sales@lexacom.co.uk or visit our website https://www.lexacom.co.uk/our-products/lexacom-3/lexacom-echo/

Lexacom and Docman announce new partnership to drive 'paperless National Health Service' forward
Lexacom, the leading supplier of digital dictation solutions for NHS Primary Care, are delighted to announce a new, exclusive partnership with Docman. This partnership will see the deployment throughout England of a fully integrated document creation, workflow and management system.
Working closely with Docman the number one supplier of advanced electronic document management software enabling the transfer of care for 40,000,000 patients between 120 NHS Trusts and 6,000 GP Practices.
Users will now benefit from a seamless document creation and workflow platform driving greater levels of efficiency and productivity. Through the tightly integrated solution, healthcare providers can significantly improve the management of their patients' care.
Dr Andrew Whiteley, Lexacom's Managing Director comments:
"We are delighted to be able to formally announce our key strategic partnership with Docman. This announcement is testament that both companies are dedicated to improving the efficiency and safety of the NHS through the use of technology. Together, we are able to offer a much broader solution to our clients throughout the NHS. The partnership of our two organisations is extremely well timed, as the Health Secretary, Jeremy Hunt, announced recently the NHS's paperless aspirations and how technology is critical in achieving these goals."
Ric Thompson, Managing Director, Docman:
"Working with Lexacom will provide our customers with one seamless solution for the creation, management and workflow of patient's transfer of care between healthcare settings."
 Docman are committed to interoperability to ensure clinicians get the right information at the right time supporting the NHS Five Year Forward View."
Lexacom, who are based in Banbury, Oxfordshire, have been providing digital dictation solutions to the NHS for almost 20 years. Lexacom 3 and its mobile apps fully integrate with the Docman software and provides the number one solution for healthcare providers.
---
Lexacom
For more information, please contact Emily Hayward, Marketing Executive by email: emily.hayward@lexacom.co.uk or by telephone 01295 236916
---