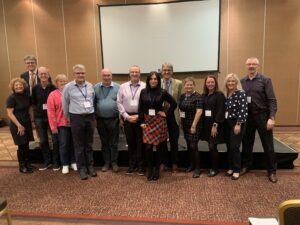 The Scottish National Users' Group (SNUG) is an independent user led organisation.  It is supported by Primary Care Informatics and NHS National Services Scotland to help and support users of GP and Primary Health Care software programmes. The SNUG Executive is a group of GP's, Practice Nurses, Locums, Practice Managers, Facilitators, Health Board and Scottish Government Representatives from across Regions to feedback and campaign for your issues.
Our Aim
The aim of the group is to improve patient care through improved use of information technology.
2022-2023 Key aspirations are:
GIT Re-Provisioning – as accreditation and implementation phases start to progress we continue to represent members and keep members informed.  We also hope to increase our support structures and educational events with regards the new GPIT systems.
Digital developments – Representing user interests and development directions with regards multiple upcoming IT systems e.g. GP2GP redevelopment, electronic prescribing, national DACS procurement, and back scanning options.
Educating users – e.g. our upcoming 4th online Conference in May and a return to a face2face Conference in November, along with continuing to develop our website resources, and podcasts
Facilitating data sharing – e.g. national sharing agreement, educational resources for practices
Ongoing current system development – EMIS / Vision / Docman
Please find out more about what SNUG offers members and what we are involved in below:
Members of SNUG benefit from:
Input into prioritisation of national developments
Attendance to regional Meetings for all Practice staff
Attendance and voting rights at the Annual General Meeting
Attendance to the SNUG Members Day in May and access to the videos from the event
Attendance for the Practice to the November Conference and AGM
National alerts and updates as they happen
Sharing best practice
Users' Group Newsletters electronically quarterly
 Continued website development and monthly updates on new features and downloads. Members area includes, downloads, hints and tips, templates, regional meeting videos etc.
National Executive co-ordinating at national level for key GP IT developments on behalf of members.
Access to the SNUG Podcast
SNUG is involved in
 Renegotiating and supervising the Framework Contract for GP IT to ensure systems are fit for the future
 Supporting the Architecture and Strategy Board in shaping the future of GPIT
 Representing the views of users in identifying the IT requirements for delivering the Scottish GP Contract
 Developing the SPIRE information project which will replace current QOF reporting and provide a wider more integrated reporting tool
Supporting the introduction of the GP2GP transfer process for the GP Computer record
Improving the end to end process of medicines management across the NHS in Scotland
Planning for the future of integration between Health and Social Care and the information sharing implications.
Looking at the needs for wider involvement and representation of other Primary Care information system users.