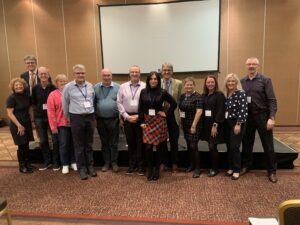 The SNUG Executive consists of a group of 14 Regional Co Ordinators based in each region in Scotland. The Co Ordinators are GP's and Practice Managers using their GP IT systems on a daily basis, and share a desire for better patient care through improved use of information technology . The Regional Co Ordinators are there to speak on behalf of the area and feedback any concerns or requests from other Practices.
The SNUG Executive is an independent group but has representation from NVUG, EMIS NUG, Scottish Government, Facilitators, NSS IT and much more. You can see the members of SNUG Executive below:
Our Team
Executive Chairmen
Co-Chair: Dr Bill Martin, GP in Lanarkshire
Co-Chair: Dr David Cooper, GP in Aberdeen, Grampian
Executive Office Bearers
Vice Chairman:    Dr Beena Raschkes
Secretary:              Dr Andrew McElhinney, GP, Forth Valley,
Treasurer:              Morag Christie, Practice Manager, Greater Glasgow and Clyde
---
Professional Representation
Primary Care Informatics:  Dr Chris Weatherburn, GP Tayside
Practice Nurse Rep: Sarah Everett, Govan Health Centre,
Practice Manager Rep: Tracey Simpson
SGPC: Dr Andrew Cowie, GP NHS Tayside and Dr Alastair Taylor
Facilitator Representative, Sharon Wishart
Locum Representative, Dr Chris Arnold, NHS Tayside
Regional Representatives
Ayrshire and Arran –                Dr Alexia Pellowe, TEC Clinical Lead and Dr Robert Lunan
Borders –                                     Louise Hutton, Facilitator NHS Borders
Dumfries and Galloway –         Dr Neil Kelly, GP NHS D&G
Fife –                                              Sharon Wishart, NHS Facilitator Fife
Forth Valley –                               Dr Andrew McElhinney, NHS Forth Valley
Greater Glasgow and Clyde –    Morag Christie, NHS GG&C
Highland –                                     Andrew Vickerstaff, Practice Manager
Lanarkshire  –                                Stephen Reid, Practice Manager NHS Lanarkshire
Lothian –                                        Dr Roland Baumann, GP NHS Lothian
Orkney –                                         Dr Iain Cromarty, NHS Orkney
Shetland –                                      Isla Inkster, NHS Shetland
Tayside –                                         Dr Beena Raschkes and Dr C Arnold NHS Tayside
---
Support Team
Alexandra De Franco, SNUG Business Manager, Tel: 07597854037
NSS IT Representative
Mark Gonella, Service Manager, NSS
---
Please see your local area for details of Regional Co-Ordinators.